Welcome to Mittelbergheim!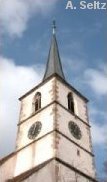 In Alsace, there are villages with singular history and architecture, which are often neglected but well worth a visit: this is true of Mittelbergheim, a charming little town perched on a limestone hill and sheltered by vineyards, between Strasbourg and Colmar.
Situated on the Wine Road, the village has retained its look of a wine-growing town of the 17th and 18th centuries, forming a homogenous whole of ancient wine-growers homes.
A village of stone and charm, Mittelbergheim is unparalleled in Alsace in the fine features of its red sandstone fronts and ochre roof tiles.
In Mittelbergheim, wine is an art and a source of delight.
Local wine-growers combine the most modern techniques with century-old know-how to cultivate their land and age their wines in cellars set in the rock.

The heritage of the past is managed with talent and rigour on the slopes of the Zotzenberg hill, where Sylvaner wines can reach the heights scaled by the great vintages.
The wines mature well and are extremely subtle. These elegant bottles are given the pride of place at all good tables in France.